Finally, a utility tool for fishing and crabbing. 
The BAM! (Badass Motherfisher) is the ulitimate multi tool for your next fishing or crabbing adventure. Made of stainless steel with an incredibly durable epoxy resin G10 handle, the BAM! will take on any task for years to come. The overall size is 12.5 x 5". 
Its multifunctional blade includes these tools:
fish pick
Dungeness Crab gauge
shackle tool
bottle opener
knife/cleaver with serrated section
pry bar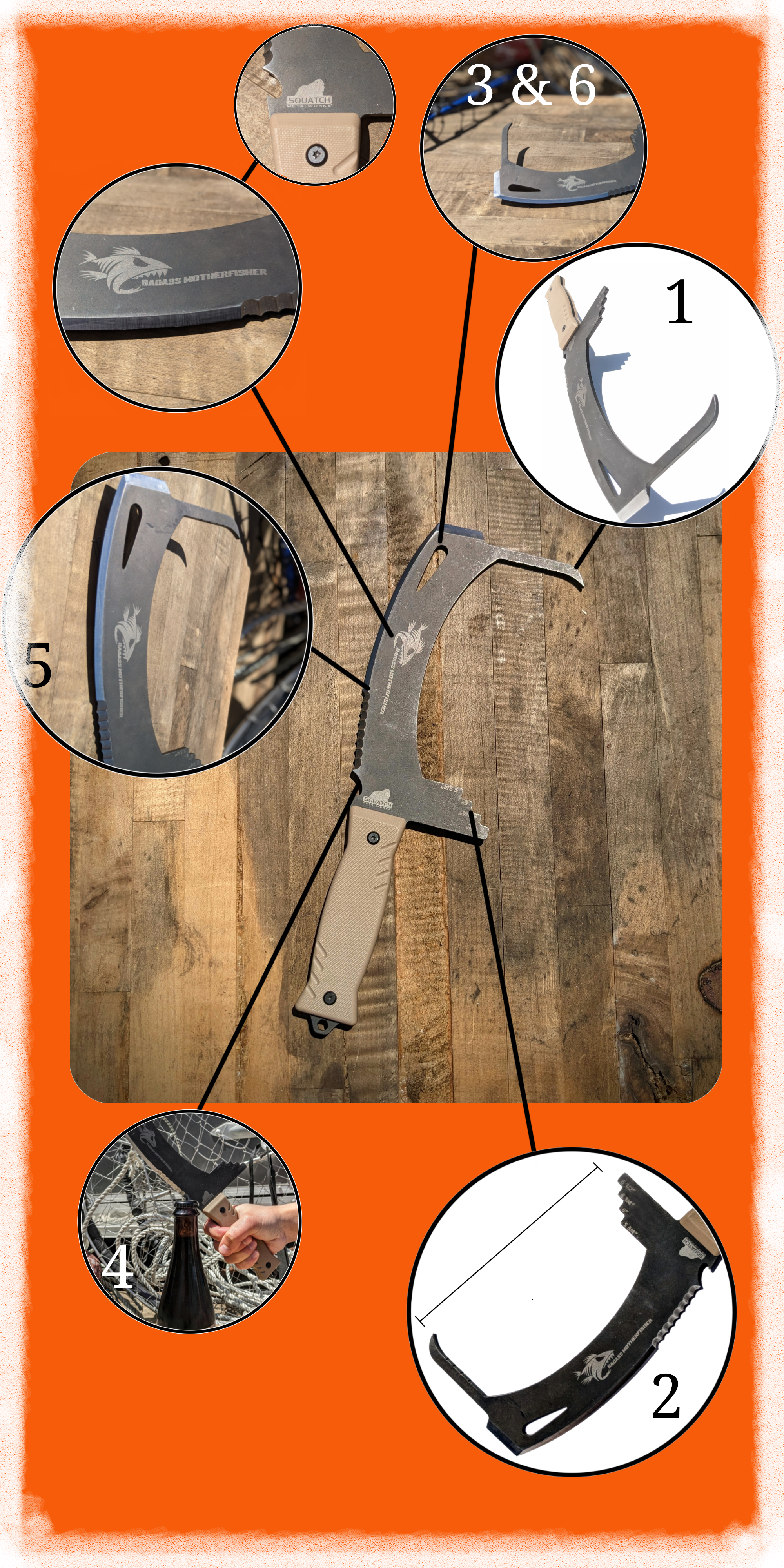 The Badass Motherfisher stainless steel fishing and crabbing multi-tool includes a branded (non-load bearing) carabiner for hanging your tool in a convenient spot.
1) Fish pick:  The integrated fish pick is used by commercial or sport fishermen to safey transport fish from their hold to a transport box or cooler, or from a net to a fish hold. This prevents injury from fish spines or teeth, which can be infectious or even venomous. 
2) Dungeness crab gauge:  The tool has a pre-measured gauge at 5.25", 6", 6.25" and 6.5" for measuring your Dungeness Crab catch. (Check your local regulations for commercial and sport size limits.)
3) Shackle tool:  The shackle tool is used to loosen or tighten the pin in a shackle, which is commonly used in boat rigging or on anchors. 
4) Bottle opener:  Integrated just above the handle on the back of the blade, the functional bottle opener is a must have tool after a day on the water. 
5) Knife/cleaver with serration:  The knife edge functions as a cleaver and is great for cutting bait. The serrated section has super sharp teeth perfect for cutting rope or line. 
6) Pry bar:  The tool has a flattened edge for prying and offers a serious mechanical advantage when using the shackle tool slot for prying. 
Specifications
Dimensions (IN):
12.5 x 5"
Supplier/Publisher:
Squatch Metalworks